Utility Knife Blades (Rounded Tip)
Slice® Utility Knife Blades (Rounded Tip) are compatible with several tools, including Slice utility knives and scrapers, the Edge Utility Cutter, and the Manual Carton Cutter. Designed to cut everything but you, these blades boast a finger-friendly® edge.
These utility knife blades retain sharpness much longer than standard metal blades, while the rounded tip adds an extra level of safety to decrease the risk of accidental cuts. In addition, they require no special maintenance and have no oil coating.
From cutting cardboard and foam board to slicing plastic banding, Slice makes people and places safer. Learn more below.
Safer than traditional blades

100% zirconium oxide blade that never rusts

Blade lasts on average 11.2x longer than metal blades
Product Specifications

Cutting Depth:

Material: zirconium oxide

Dimensions: L 2.56 in x W0.47 in x H0.05 in

Weight: 0.06 lb
Share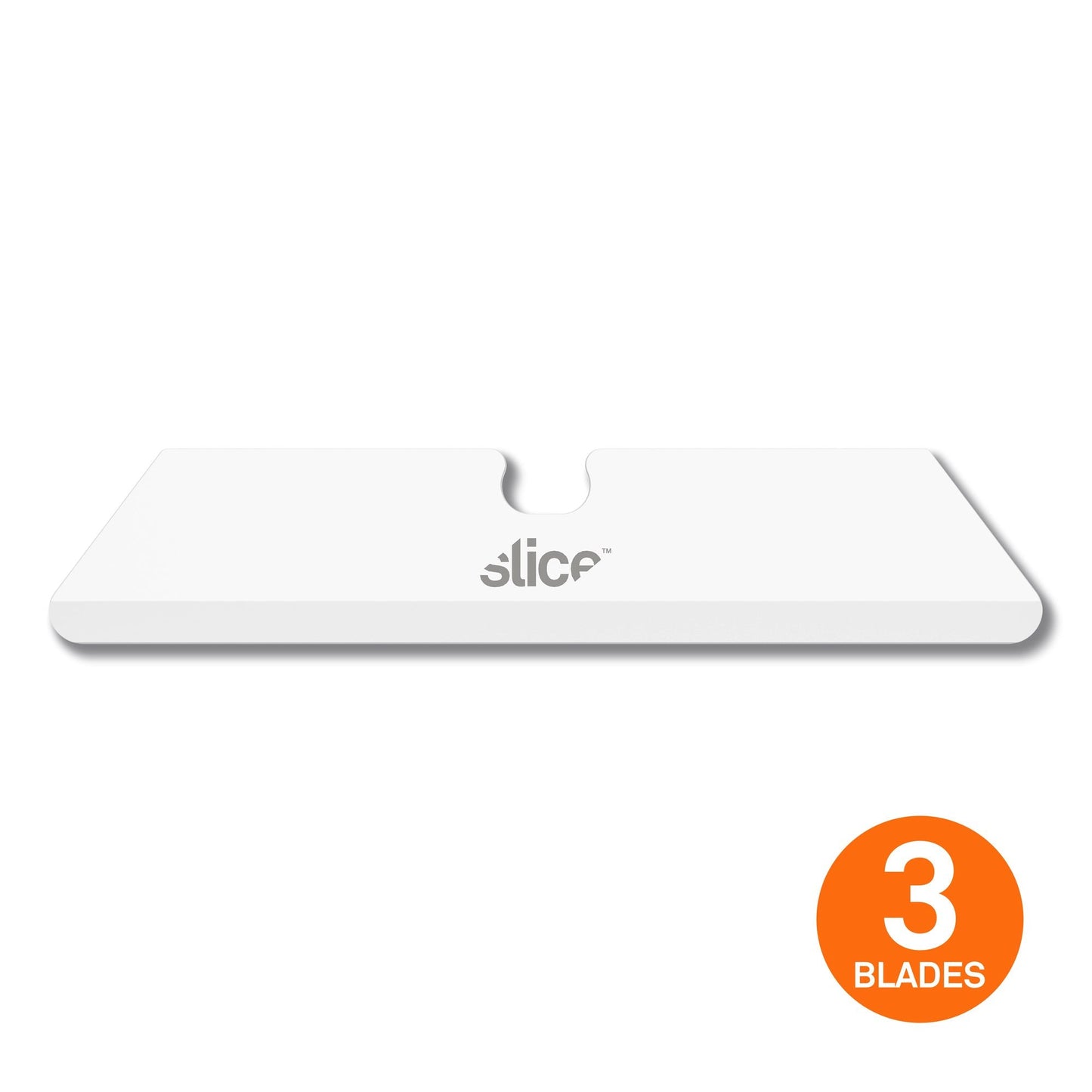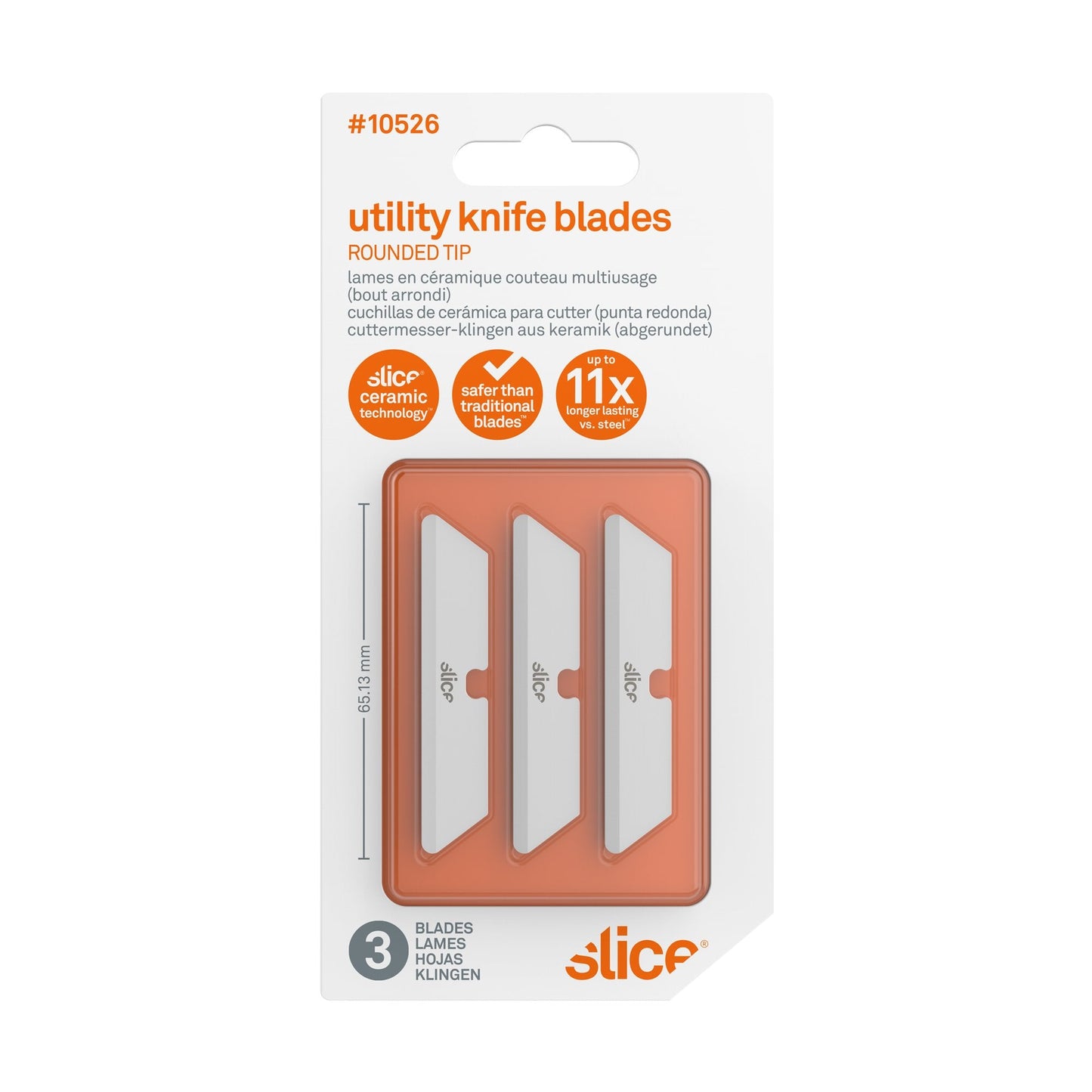 Videos
Cut Roof Membrane Safely With Slice

How to Cut Ceiling Tile: Safety First

How to Cut Drywall Safely With Slice

How To Cut Window Screen Using Slice Tools

Blade Replacement for the Folding Utility Knife

Replacing Carton Cutter Blades

Blade Replacement on Slice Utility Scrapers

Blade Replacement for Slice Utility Knives
FAQ
Why Choose a Ceramic Blade?

In a word: safety. When comparing metal and *ceramic utility knife blades*, be sure to learn about the properties of the material. Steel is a relatively soft metal, and therefore needs to be sharpened to unsafe levels just to achieve a satisfactory lifespan. Advanced ceramics are much harder than steel. Therefore, there's no need to sacrifice safety to create an edge that is effective and long lasting. In fact, even though Slice blades start out less sharp, they outlast steel by a factor of 11.2 on average.

Ceramic blades are also ideal for industrial applications. They're non-sparking, non-magnetic, chemically inert, safe up to 1600 degrees Celsius, and never rust. And, because of Slice's finger-friendly edge, our blades don't require a special sharps disposal box.
Why Use a Retractable Blade Knife?

Retractable blades were the first major utility knife safety enhancement. When you're in the middle of a project, it's convenient to leave your knife's blade exposed so you can pick it up and use it immediately. But when (not if) you get interrupted or leave for a break, it's just as easy to forget and leave that blade exposed. This leads to accidents. A retractable safety utility knife solves this problem by automatically retracting the blade when the knife is not in use.
What Are The Best Utility Knife Blades For the Job?

That, of course, depends on the type of cut you're making. Most cuts require a straight, strong edge, but don't necessarily need a pointed tip to make that cut. Rounded-tip utility knife replacement blades offer added protection against accidental punctures. If, however, you need a piercing action to initiate your cut, such as when cutting certain types of plastic film, circuit boards, or poly strapping, we recommend the Slice 10528's pointed tip.
Why is it Safer to Handle a Slice Ceramic Utility Knife Blade?

Knowing that frequent blade handling causes injuries, Slice looked at the safety aspect of how to change a utility knife blade. There are three ways to reduce the risk: make the blade change procedure quick and easy, make the blade itself safer to touch, and manufacture a more durable blade so you don't have to change it as often.

Slice tackled all three. We designed our handles for simple tool-free blade changes, we developed a patented finger-friendly edge, and we use a material that retains its edge 10 times longer than steel blades.
Are Slice Ceramic Utility Knife Blades Breakable?

Slice uses 100 percent zirconium oxide, which is harder and more durable than steel. Our blades are thicker so they're harder to snap than metal. While no material is completely unbreakable, we think you'll be surprised at the strength and durability of our blades.
How do I Dispose of a Slice Utility Knife Blade?

You don't need any special sharps disposal for Slice ceramic safety blades because their edge is finger-friendly. Another advantage of advanced ceramics is that they're recyclable. If the appropriate facilities don't exist near you, ship your used blades to Slice and we'll recycle them for you.